HOW DO WE APPROACH KITCHEN DESIGN?
Step 1- Kitchen Design Consultation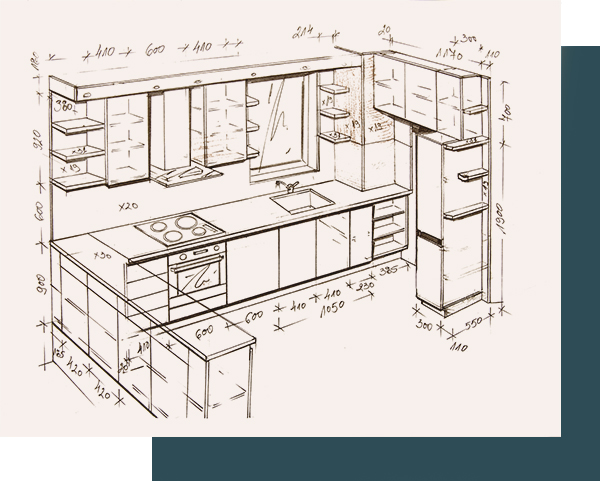 Measuring your space
Before you sit down with our designer to plan out your new kitchen design project, we would need rough measurements of your space. To help our designer to visualize your expectations and provide you with an accurate estimate for your project, we ask you try to sketch an outline of your kitchen. Label each wall, Mark the important openings, where the sink and range would be. Moreover, take pictures of each wall and windows as reference. Measuring general Height of your room and width of each wall will also help your meeting with our designer progress more efficiently.
Make a Kitchen Design Appointment
Once rough measurements of your kitchen are taken, it is now time to make an appointment with one of our dedicated designers to discuss your project in depth. Before you meet our experienced staff, it is also helpful to establish a budget and collect some images to share your ideas about how you would want your new kitchen to look like. This way, our designer will offer you the best options.
Selecting Your Door Style
During your first initial consultation, you will be have the opportunity to ask questions and discuss your expectations. After obtaining an idea of your taste and style, our designer will help you view all the door styles and finish options. We are proud to work with various quality based cabinet makers to offer our customers every style in the market to find the perfect match for their taste and budget
Finding the Best Matched Counter Top
Once the door style is selected and kitchen design is confirmed, next step is to find the perfect counter top. Before making a decision, our designer will discuss the details of each type of stone, their durability and prices, so he can guide to select the best match for your cabinet style.
3D View Of Your Project
After all the selections are made, you will be able to view what your new space will look like on a 3D layout. The final look will include the door style , counter top and other related accessories you selected.
Step 2-Material Selection & Design
Bringing your plan to life
At the end of your appointment, if the entire design is approved and you are ready to proceed, your order will be placed.
Taking the Exact Measurements
When the order is placed, next step is to set up an appointment with our designer to come to your job site to take exact measurements of your kitchen space. During this appointment, the designer will be taking detailed notes of your layout to prevent any errors.
Production Process
After the home visit the designer will submit the order to the cabinet maker introduction will begin. Throughout the production process, our customer service team will be in continuous communication with our customers. Any delays, changes and unforeseen situations will be informed promptly. Customer will know exactly when the order will be ready for delivery.
Final Step: Delivery
The Last and final step of a kitchen design project is Delivering the products to the customer. Our customer service staff will be in close contact with the customer to set up a delivery date that is convenient for them. Our Designer will be In communication with the contractor to assist through out the installation process.