How to Make a Bathroom Remodel Accelerate
Olivia
Are you looking for ways to speed up your bathroom remodel? If so, you've come to the right place! A bathroom remodel can be a daunting task. It requires a lot of planning, research, and hard work. But with the right strategy, you can make sure that your project gets done quickly and efficiently. Here are five tips that will help accelerate your bathroom remodel.
1. Make a Plan
Before you start tearing down walls and picking out paint colors, it's important to have a plan in place. Figure out what you want and need in your new bathroom before you begin any work. Make a list of the features you want in the space, such as new fixtures or updated appliances. This will make it easier for contractors and designers to give accurate estimates on time frames and pricing.
2. Do Your Research
The next step is to do your research – find the best contractors, products, and prices available before starting anything. Read online reviews from previous customers, ask friends or family for recommendations, and take advantage of free consultation services offered by local businesses like here in Anve Kitchen and Bath! Doing this legwork upfront will save time later on when it comes time to select materials or hire contractors.
3. Stay Organized
As the project progresses, keep track of everything that's going on during the remodel to avoid any surprises along the way. Create weekly checklists so everyone involved knows what tasks need to be completed each week. Also consider keeping detailed notes about any changes made during construction so there aren't any miscommunications between team members or delays caused by forgotten details.
4. Be Patient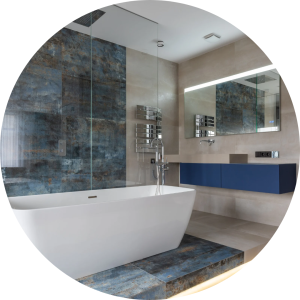 Rome wasn't built in a day and neither was your bathroom! It is essential that you remain patient throughout the process – even if things don't go according to plan. Remember that all good things take time; rushing through steps could lead to more costly mistakes down the line or cause more stress than necessary during this already stressful process!
5. Relax!
Taking on a bathroom remodel can be stressful which is why it's important to relax throughout this journey! Enjoy seeing how everything comes together – from selecting fixtures and tiles to finally admiring your finished product! At the end of this process, you'll have an updated space that reflects both style and function – plus all of your hard work paying off!
A successful bathroom remodel doesn't happen overnight—but these five tips can help make sure yours completes faster than expected! From making sure you have a plan before starting anything else to staying organized throughout the process, these simple steps will help make sure your project runs smoothly from start to finish. So don't let stress derail your renovation dreams; just remember these five tips for an efficient (and enjoyable!) bathroom remodeling experience!
You can visit our showroom here in Paramus, NJ, or simply contract us to learn more about bathroom remodels and how to start!