Do's & Don'ts of Designing a Kitchen Island
Cagatay Sevinc
Designing a kitchen island with the right knowledge can make all the difference in your kitchen space. They provide extra counter space and storage, not to mention a stylish centerpiece for the room. Additionally, you can use it as an opportunity to introduce pops of color or interesting textures into your overall design. Kitchen islands can truly be statement pieces. But before you start planning your dream island, it's important to know the do's and don'ts of designing one. Let's take a look at some of the tips and tricks you should keep in mind when designing a kitchen island.
The Do's of Designing a Kitchen Island
1. Measure Carefully

Measuring your kitchen before designing a kitchen island is the best way to start, because it will ensure that you get the most out of your space. Taking accurate measurements of your kitchen will tell you how much room you have so that your new island fits perfectly into the existing layout. Consider not only the width and length of your kitchen but also the height of any large appliances, such as an oven or refrigerator, so that it won't interfere with airflow or lighting. With accurate measurements in hand, designing a kitchen island for your needs becomes much easier.
2. Plan Ahead
When designing a kitchen island, it's important to take the time to consider potential future needs as well. Thinking ahead can give you an idea of how well the island might fit into your lifestyle, such as whether you'll use it as extra counter space, a food prep station or an additional dining area. Planning ahead and exploring possible uses can help maximize the success of your design decisions. By having an idea in mind before designing a kitchen island, you'll be sure to create something that serves your purpose and fits perfectly within your home.
3. Choose Quality Materials

It's important to prioritize quality materials that will be long-lasting investments for your kitchen island. Countertop materials such as quartz, marble and porcelain are all excellent choices. As for wood, opt for durable types like oak and birch – these hardwoods resist scratching and liquid damage better than softer woods. Finally, remember that investing in quality now will save you from making costly repairs or replacements in the future, so don't skimp on materials. With thoughtful choices of quality products when designing your kitchen island, you'll have a piece you can enjoy for years to come.
4. Consider Lighting

Lighting is one of the most important elements of kitchen island design! Rather than just relying on the overhead kitchen lighting, you should make sure that there's plenty of light around or above your kitchen island. Not only will this brighten up your kitchen, but it will also create an inviting and functional atmosphere. With strategically placed kitchen island lights, you'll be able to use your kitchen island any time of day without having to worry about uneven or inadequate lighting. So take some time to select the perfect kitchen island lights and enjoy a stress-free kitchen experience!
The Don'ts of Designing a Kitchen Island
1. Don't Overlook Storage

It's important to ensure that your design incorporates plenty of storage. After all, kitchen islands are a great way to give you extra counter space, but if it doesn't come with the resources for storage, then what good is the extra surface? Going into the design process prepared with an idea of the cupboards, shelves, and drawers that you plan to include will allow you to have everything handy when your kitchen island is complete. By incorporating storage in your kitchen island construction from the beginning, you'll be ready with everything you need in one convenient place.
2. Don't Forget About Safety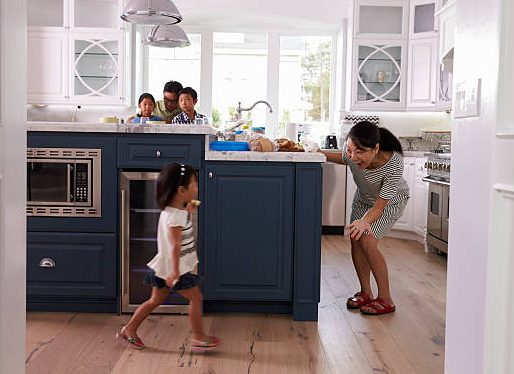 When it comes to kitchen islands, safety should always come first. Ensure that there are no sharp edges or anything that could potentially be hazardous for children who may be playing nearby. Taking the time to add additional protective measures such as cushioning and rounding off surfaces can safeguard not only younger family members but also the longevity of your kitchen island! Doing so will give you peace of mind and a beautiful kitchen feature to enjoy for many years to come.
3. Don't Skimp On Style

Your kitchen is a reflection of your personal style so don't be afraid to let your imagination go wild and create something that you love! Manufacturing kitchen islands provide countless options for creating an island to suit your kitchen. Use different colors, styles, and textures to craft a kitchen island that reflects you and your kitchen. Plus, it doesn't have to cost an arm and a leg either as there are numerous options that are both practical and beautiful. Don't let convention limit you; embrace the uniqueness of styling a kitchen island in a way that expresses your individual taste. Life's too short to settle for boring!
4. Don't Rush It

Taking the time to thoughtfully consider every detail of the kitchen island design process is key in ensuring a perfect end result. Make sure that all measurements are accurate, take into account the space you have to work with, and choose materials wisely based on your kitchen layout, style preferences, and budget. By approaching each step with intention, you can be sure that your kitchen island will perfectly fit your kitchen's aesthetic and practical needs. Last but not least, remember to enjoy the process—it should be exciting as you bring your kitchen vision to life!
A well-designed kitchen island can add functionality and beauty to any home's cooking area. When planning out a new kitchen island design, consider your needs and lifestyle first then think about incorporating details like proper ventilation, ample storage space, appropriate lighting fixtures and durable materials that will last a long time. With just a few simple tricks, your new kitchen island will be ready to go in no time!
Anve Kitchen and Bath is here to help you design your dream kitchen! Our experienced designer will work with you every step of the way to determine the ideal layout for your space. With our free kitchen design consultation, we'll discuss your budget, needs, and measurements to create a plan that works best for you. Don't wait any longer – book your free consultation today and start designing the kitchen of your dreams!