Five Fundamentals You Need to Know to Build a Gourmet Kitchen
Valentina Brito
You don't need a huge, high-end kitchen to cook like a gourmet chef. Building and designing a gourmet kitchen is no easy feat. It takes careful planning, forethought, and a keen eye for detail. But the end result is worth it: a beautiful, functional kitchen that will make mealtime a breeze. Focus on these five areas to improve the functionality of your kitchen, and you'll feel like a cooking connoisseur in no time.
Before you get to designing consider your needs. What kind of cooking do you do most often? Do you entertain frequently? Do you have a large family? Answering these questions will help you determine what kinds of features your kitchen needs.
1. Storage is key
One of the most important things to think about when designing a kitchen is storage. You need a place to store all of your cooking supplies, ingredients, and tools. If you don't have enough storage, your kitchen will feel cramped and cluttered. Invest in some high-quality cabinets and shelving units to keep everything organized and make use of every nook and cranny. With proper storage, you can keep your countertops clear and your floors clean. You'll also have everything you need within reach when you're cooking, so you can make meal prep a breeze. Don't skimp on storage—it's worth the investment!
2. Layout and flow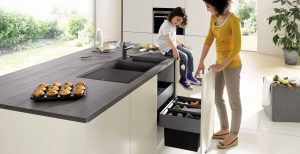 A well-designed kitchen should be easy to move around in. The layout should make sense, and there should be plenty of counter space for prep work. You also want to make sure there's enough room for people to congregate while you're cooking. Invest in a kitchen island or additional countertops to give yourself some extra room.
3. Appliances
In order to cook like a gourmet chef, you need the right appliances. Cheap appliances will not only break down more quickly, but they won't perform as well, either. When it comes to cooking, you want appliances that will make your life easier, not harder. Make sure your kitchen is equipped with a high-quality stove, oven, and refrigerator. If you can afford it, invest in some higher-end appliances like a professional-grade range or a commercial-grade fridge.
4. Lighting and hardware
Pay attention to the hardware, the lighting, and the finishes. Good lighting is essential for any kitchen, but it's especially important in a gourmet kitchen. You need to be able to see what you're doing when you're cooking, so make sure your kitchen is well-lit. Install some overhead lighting and under-cabinet lighting to brighten up the space. These elements can really make your kitchen pop.

5. Ventilation
A gourmet kitchen can get pretty steamy, so good ventilation is a must. Make sure your kitchen has an exhaust fan that's strong enough to ventilate the space. If possible, install a hood over your stove to help with ventilation. Hoods come in all shapes and sizes, so you're sure to find one that fits your stove perfectly. In addition to helping with ventilation, hoods also help to keep your kitchen clean by preventing grease and smoke from spreading throughout the room.
Building and designing a gourmet kitchen is a big undertaking. But with careful planning and attention to detail, it can be an absolute breeze. Keep these tips in mind, and you'll be well on your way to creating your dream kitchen.
Did you know that Anve Kitchen and Bath offers free design consultations so you can make your dream gourmet kitchen a reality. Call or visit the showroom to make an appointment today with our award winning in-house designer!