Top 6 Kitchen Organization Tips
Valentina Brito
Are you feeling overwhelmed every time you walk into your kitchen? Are pots and pans taking over the counter space, and dishes piling up in the sink? Don't worry, you're not alone. A lot of people struggle with kitchen organization. But luckily, there are a few simple tips that can help.
If you're like most people, your kitchen is the heart of your home. It's a great place to gather with family and friends, cook delicious meals, and relax after a long day. But if your kitchen is cluttered and disorganized, it can be tough to enjoy. These six kitchen organization tips will help you get your space under control so you can start enjoying it to the fullest!
1. Get rid of kitchen clutter

The first step to kitchen organization is getting rid of anything you don't need. Go through your cabinets and drawers and get rid of any expired food, kitchen gadgets you never use, and anything else that's taking up space. Donating or recycling these items will give you more room to work with and make your kitchen feel less cluttered.
Don't forget about the little things! Keep your kitchen counters clear of clutter by storing frequently used items, like spices and cooking utensils, within easy reach. A few small changes can make a big difference in the overall feel of your kitchen.
2. Invest in storage solutions
If you're looking for ways to organize your kitchen, there are a few different options to consider. One is to invest in some kitchen storage solutions. This could include things like spice racks, drawer organizers, cabinet shelves, and pot racks. Having these kinds of products in your kitchen can help you keep it more organized overall.
Another way to organize your kitchen is to make sure everything has a place. This means having a place for everything and putting things back in their spot when you're done using them. If everything has a designated space, it will be easier to keep your kitchen organized on a day-to-day basis.
3. Create designated kitchen stations
When it comes to kitchen organization, one of the best tips is to create stations. By having everything you need for specific tasks in one place, you can save time and keep your kitchen more organized overall. Designated kitchen stations can help to declutter your countertops and make it easier to find what you need when you need it. Here are some examples of kitchen stations that might be useful to you.

Coffee Station:
If you can't live without your morning cup of coffee, then a coffee station is a must-have in your kitchen. All you need is a small table or shelf and a coffee maker. Then, just add your favorite coffee beans, mugs, and stirrers.

Prep Area:
A prep area is perfect for those who love to cook. Create a space where you can easily chop vegetables or mix up ingredients for recipes. This might include a cutting board, kitchen knife set, and storage containers for your spices and other supplies.
Cleaning Station:
Keep your kitchen clean with a designated cleaning station. This could be a small cabinet or corner of the countertop where you store all of your cleaning supplies. Then, when it's time to tidy up, everything you need will be in one spot.
Creating designated kitchen stations is a great way to get your kitchen organized and make it more functional. Plus, it can also help to give your kitchen a more stylish look.
4. Keep countertops clear
One of the most important kitchen organization tips is to keep your countertops clear. Only keep out the kitchen appliances and tools you use on a regular basis. Store everything else in cabinets or drawers to free up valuable counter space.
Put things away after use. A key part of kitchen organization is putting things away after you use them. This includes putting away dishes after you've washed them, wiping down countertops, and putting food away in the fridge or pantry. Taking a few minutes to do this each day will help keep your kitchen clean and organized.
5. Schedule regular kitchen cleaning sessions
Even if you're diligent about putting things away, your kitchen will eventually get cluttered and dirty. To keep it in tip-top shape, schedule regular cleaning sessions. Once a week, spend an hour or so decluttering, deep-cleaning, and organizing. This will help you stay on top of kitchen messes and ensure that your space always looks its best.
Start by decluttering countertops, tables, and other surfaces. Put away any items that don't belong in the kitchen, and throw out anything that's expired or no longer needed. Then, give everything a good wipe down with a kitchen-safe cleaner. Be sure to clean appliances inside and out, as well as sinks, faucets, and countertops.
6. Utilize vertical space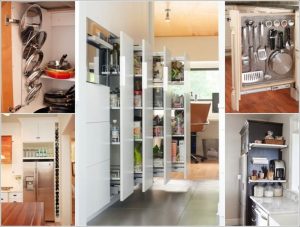 One way to do this is by installing shelves or hooks to hang pots and pans. This will free up cabinet space and make it easier to find what you need. Another great way to utilize vertical space is by hanging spices on a spice rack. You can also invest in over the door storage holders. This will keep them organized and within easy reach. It's a great way to make use of every space in your kitchen.
So next time you're feeling overwhelmed by kitchen clutter, remember that utilizing vertical space can help you get organized and reclaim your kitchen!
If you're feeling overwhelmed every time you walk into your kitchen, don't worry. There are a few simple tips that can help. Kitchen organization can seem like a daunting task, but it's definitely doable with a little bit of effort.
And if you're not sure where to start, Anve Kitchen and Bath is here to help. We offer kitchen design services that will take the guesswork out of kitchen organization. Our award winning designer can create a kitchen with special cabinets that is practical for your lifestyle. With our help, you can create a space that is functional and stylish – perfect for cooking up delicious meals with family and friends. So what are you waiting for? Start organizing your kitchen today!